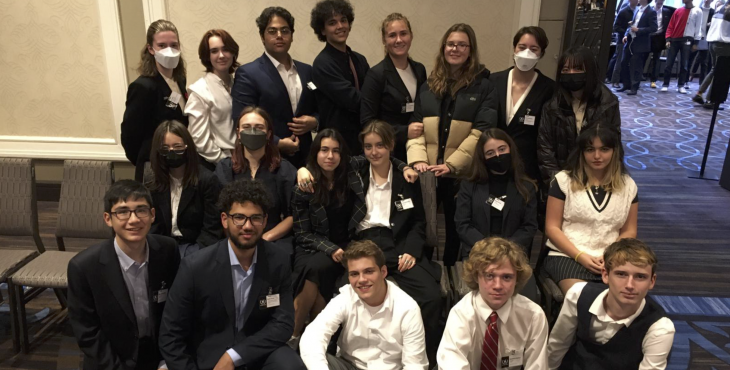 UN Model Conference - Montréal
From November 10th to 13th, 19 students in 1ère participated in the 30th SSUNS Model UN Conference in Montreal, accompanied by 2 teachers.
For 3 days the students played roles as countries and characters of historical significance and simulated a UN conference. 
Whether they were ministers in Atatürk's first cabinet, Cambodian reformers in the immediate aftermath of the Khmer Rouge, or even "Lost" co-creator Damon Lindelof during the 2007/2008 Writers' Guild strike in the United States, they debated major international issues and formed alliances between countries to convince and persuade. 
It was a fantastic experience that allowed them not only to develop their skills of oration, eloquence, persuasion, abstraction, empathy, and global awareness, but they also had the opportunity to meet and work with students from many different backgrounds.   
Congratulations to all of you on your teamwork and your commitment to consensus and negotiation. Your determination to move the debate forward by listening and compromising made your teachers and the whole community proud!
The Secondary Schools' United Nations Symposium 
In 1992, a group of McGill University students came together with a hope of creating an environment for high school students to explore a wide range of global issues. They sought to offer an opportunity for these students to collaborate and problem-solve as active, young leaders. Now in its 30th year, the Secondary Schools' United Nations Symposium (SSUNS) continues to grow and innovate, hosting hundreds of high school and Cégep students from all across the world. SSUNS is regularly attended by dozens of schools, staffed by over two hundred McGill students, and registers over one thousand delegates.
The Secondary Schools' United Nations Symposium (SSUNS) is a Model United Nations conference hosted by McGill University students in Montreal, Quebec.  The past few years have forced our conference to quickly adapt to changing circumstances. SSUNS 2020 was held completely virtually, and in 2021, SSUNS was offered as a hybrid conference. We are excited to bring SSUNS back to the Sheraton Hotel in Montreal this year, welcoming students from all around the world to participate in our conference.